TS Eliot prize goes to Ocean Vuong's 'compellingly assured' debut collection
Night Sky With Exit Wounds, the debut collection by a poet who is the first literate person in his family, hailed as 'the definitive arrival of a significant voice'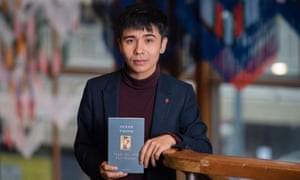 After becoming the first literate person in his family and a prize-winning poet festooned with awards, Ocean Vuong has now won perhaps his most prestigious accolade yet for his debut collection: the TS Eliot prize.
Reflecting on the aftermath of war over three generations, 29-year-old Vuong's first collection, Night Sky With Exit Wounds, has already landed the Forward prize for best first collection, as well as the Whiting and the Thom Gunn awards. The book has also been critically acclaimed, with Observer critic Kate Kellaway describing it as "a conduit for a life in which violence and delicacy collide", and the New York Times's Michiko Kakutani praising Vuong's "tensile precision reminiscent of Emily Dickinson's work, combined with a Gerard Manley Hopkins-like appreciation for the sound and rhythms of words".
Vuong is only the second debut poet to win the TS Eliot prize, two years after Sarah Howe became the first, winning for Loop of Jade in 2016.
Before announcing Vuong as the winner at a ceremony at the Wallace Collection in London on Monday evening, chair of judges Bill Herbert called Night Sky With Exit Wounds "a compellingly assured debut, the definitive arrival of a significant voice".
"There is an incredible power in the story of this collection," said Herbert. "There is a mystery at the heart of the book about generational karma, this migrant figure coming to terms with his relationship with his past, his relationship with his father and his relationship with his sexuality. All of that is borne out in some quite extraordinary imagery. The view of the world from this book is quite stunning."
READ the rest of the article here: https://www.theguardian.com/books/2018/jan/15/ts-eliot-prize-goes-to-ocean-vuongs-compellingly-assured-debut-collection